Wood Stork
Family: Storks (Ciconiidae)
Genus & Species : Mycteria americana
Status: In their limited distribution in the southeast corner of the Salton Sea they can be common from mid June to late summer. Rarely, they also visit the Lower Colorado River Valley in Arizona. These large waders show up in our area after dispersing from their breeding grounds in Mexico.
Habitat: These large (50") wading birds like shallow water with the presence of fish. The southeast portion of the Salton Sea is ideal.
Best Chances: In July, look for Wood Storks on the southeast side of the Salton Sea in Morton Bay and in the large ponds on the north side of Schrimpf Road.

| | | |
| --- | --- | --- |
| Wood Stork, Salton Sea, 2004 | Wood Stork, Salton Sea, 2008 | Wood Stork, Everglades NP, 2006 |
Hover (with your mouse cursor) over the thumbnail photos above to see a full-sized photo below.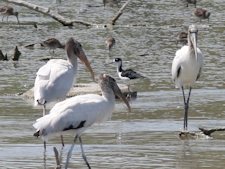 Wood Stork, Salton Sea, 2008