Finding Birds in Southern Illinois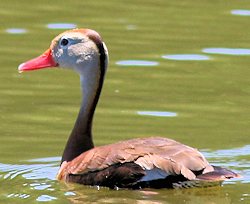 Black-bellied Whistling Duck
Would you like to see wintering Whooping Cranes, Trumpeter Swans, and five species of geese?
Listen to and watch breeding Henslow's Sparrows?
Search out Rough-legged Hawks in grasslands and ag fields?
Watch graceful Mississippi Kites snapping up dragonflies on the wing?
Observe Bald Eagles once again breeding in the heartland?
Experience southern specialties like Black-bellied Whistling-Duck, Chuck-will's-widow, Black Vulture, and Fish Crow?
Now you can, by ordering a copy of Finding Birds in Southern Illinois! This book provides detailed accounts of the best areas to bird in the 17 southernmost Illinois counties: forests, swamps, lakes, riverland bottoms, and grasslands. At the end of the book is a comprehensive bird checklist. Each chapter contains the following information:
- Habitat
- Target Birds
- General Description
- Birding Suggestions & Directions
- Site Notes
PREVIEW the "Introduction" and "Kaskaskia Island" chapters by clicking here!
(preview opens in a new window)
The print version of the book costs $20.00, which includes media mail postage. To order a copy of the book, choose from these options:
• Send a check for $20.00 to Henry Detwiler, 8815 S. Ave D., Yuma, AZ 85364, along with your name and address
• Click on the "Buy Now" button below to make an $20.00 payment using PayPal (this option takes you to a secure PayPal link)

A PDF version of the book is also available and costs $11.00. Pay $11 via check or PayPal and send me an e-mail at henrydetwiler@earthlink.net, then I'll e-mail you the electronic copy of the bird guide. Thanks!

Questions? Send an e-mail to henrydetwiler@earthlink.net