Area around Betty's Kitchen & south Mittry Lake
Dec 16, 2000
0700-1700, Sunny, 55-70
The Christmas Bird Count!
70 species total


It was just getting light when we started our count at Betty's Kitchen. The search for birds along the riparian trail started out slowly, but as the sun warmed us and the birds up, they started moving around, chirping, and singing.
| | |
| --- | --- |
| Say's Phoebe | Next we drove to the overlook above Mittry Lake, where we counted thousands of American Coots, a few dozen Western Grebes, and smaller numbers of assorted waterfowl. We also tried to raise the Black Rails, but the only response was from a couple of Virginia's. |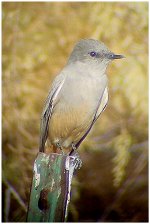 Say's Phoebe
We were fortunate to get excellent looks at an Eastern Phoebe in and around a Cottonwood nursery just north of Betty's Kitchen. I never could get any photos of it, but there were obviously plenty of cooperative Say's Phoebes around.
In the desert hills east of Betty's Kitchen we saw and heard quite a few Rock Wrens and two Mountain Bluebirds. We called it a day around 5:00PM.