Southeast Arizona
20-25 May 2010
by Henry Detwiler

A few days of fine birding with midwestern friends Bruce and Paul. We got most of the Arizona specialties, often with excellent looks!

142 species seen & heard Click here for bird checklist
Click on thumbnail pictures for full-sized photos.


Yellow-eyed Junco

Bruce and Paul arrived in Tucson early on the afternoon of 20 May, and we promptly set off for Mt. Lemmon. It wasn't long before we were in the land of the Painted Redstart, and Red-faced, Olive, and Grace's Warblers. A nice surprise was an Arizona Woodpecker putting on a good show.

We moved higher in the mountains and eventually got good looks at Broad-tailed Hummingbird at the Iron Door Restaurant. Yellow-eyed Juncos were everywhere, as were Stellar's Jays. Too soon we had to head back downhill, and drove to Green Valley.

Sulfur-bellied Flycatcher

The next morning we got up with the sunrise and headed out to Florida Wash. Rufous-winged Sparrows and Bell's Vireos were the most common birds, and not far away we scored with Botteri's Sparrow, too. A foray into Florida Canyon turned up Costa's Hummingbird, Northern Beardless Tyrannulet, Varied Bunting, and many others


Black-headed Grosbeak

From Florida Canyon we jumped over to Madera Canyon, and started a vigil at the Madera Kubo to wait for the Flame-colored Tanager. As we waited we enjoyed Sulfur-bellied Flycatcher, Broad-billed & Black-chinned & Anna's & Magnificent Hummingbirds, and Hepatic Tanagers, among others.

A special treat was the first Berylline Hummingbird of the season to arrive at the Kubo--and we got fantastic looks. Mr. Flame called a few times, but he never did show, so we reluctantly departed shortly after 11:00 a.m.!
As we traversed Box Canyon we stopped to listen for wrens and were rewarded by both Rock and Canyon Wrens.At the Paton's, we didn't have to wait long to add yet another hummingbird to our growing list: Violet-crowned. At the roadside rest we scared up a Thick-billed Kingbird and at Patagonia Lake State Park we marvelled at the numerous Vermilion Flycatchers and Yellow Warblers. Unfortunately, the Black-capped Gnatcatchers remained hidden.


Sycamore Canyon


Canyon Wren

On Saturday morning we pulled into the lower side of California Gulch shortly after 7:30 a.m., and were soon adding life birds. A beautiful Gray Hawk called and circled overhead. Farther up the canyon we started hearing and seeing the famed Five-striped Sparrows for which this spot is famous. On the way back to Nogales we stopped briefly at beautiful Sycamore Canyon, and got brief looks at Rufous-crowned Sparrow..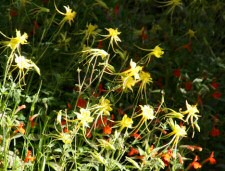 Columbines in Garden Canyon
A quick stop along Rio Rico Road turned up some 200 Black-bellied Whistling Ducks and our first Western Kingbirds. From there it was east to the Huachua Mts. and the Beatty's. Here we were treated to yet another Berylline Hummingbird, this one coming in for both food and nesting material (dog hair).


Berylline Hummingbird - Beatty's


White-eared Hummingbird - Beatty's

Also there was the handsome White-eared Humminbird and a pair of Blue-throated Hummers. Farther down the road we waited at Mary Jo's for the arrival of the Lucifer Hummingbird. The jewel of a bird didn't disappoin us, and we got breathtaking looks at the irridescent male.
On Sunday morning we started at Ft. Huachuca, with it's fine grasslands and scenic canyons. Botteri's Sparrows were up and singing on the way in to Garden Canyon. In the canyon we got our first Bridled Titmice, along with Hutton's and Plumbeous Vireos.


Clark's Spiny Lizard


Buff-breasted Flycatcher

Farther up the hill, in Sawmill Canyon, we saw several Buff-breasted Flycatchers, and heard an Elegant Trogon. Scheelite Canyon proved to be a beautiful hike, but produced no Spotted Owls. Finally, down in Huachuca Canyon, we got a gimpse of an Elegant Trogon.

| | |
| --- | --- |
| Yellow-breasted Chat - San Pedro River | After a quick bite to eat, we drove out to the San Pedro River. The wind was howling and it was hot, but we still got to see some nice birds. A family of Tropical Kingbirds was new for the trip, and several Yellow-breasted Chats posed nicely around their territories. At the little pond close to the San Pedro House, we spotted late White-crowned Sparrows and a Green Towhee. |
That evening we returned to Madera Canyon for some night birding. Bruce picked out a Gray Fox, our best mammal for the trip, and then I heard the tooting of Whiskered Screech-Owls. Bruce found these for us, too, and we got some fine looks at them with our binoculars.


Gopher Snake

Other finds for the night included a calling Elf Owl, Whippoorwills, dozens of Lesser Nighthawks, and a Gopher Snake crossing the road.


Lesser Nighthawk

Caterpillar in Florida Wash - What kind is it?

We ended the trip with some 142 birds seen and heard. Bruce got 58 lifers and Paul ended up with 9 lifers. A fine trip--can't wait to go back!

On our last morning we had a Bendire's Thrasher singing south of Green Valley, and then tried for Crissal Thrasher and Flame-colored Tanager. We saw this fine specimen of a caterpillar and some nice cacti, but once again missed Mr. Flame.

Claret Cup Cactus