European Vacation - July 2012
by Henry Detwiler

A fine trip with Suzanne and Gaby visiting relatives, ancestral homes, and of course birds!
125 species seen from 9-29 July. Click here for bird checklist
Click on thumbnail pictures for full-sized photos.



Go to Page 2, Europe Adventure

ICELAND
Far afield from Arizona and California, Suzanne, Gaby, and I arrived in Iceland on Monday the 9th of July, and headed north towards the prominent Snaefellsnes peninsula.  Close to Borgarnes we stopped at a pond and had our first good look at some of the country's most common birds. There was a flock of Greylag Geese, raucous and graceful Arctic Terns, a family of Eider Ducks, and the ubiquitous Spotted Redshank.


Red-throated Loon


Arctic Terns


Spotted Redshank

A bit farther down the road was the first of many waterfalls with another pond, where we had fine looks at two Red-throated Divers (Loons).


Golden Plover
Along the coastline of the Snaefellsnes peninsula were numerous cascading waterfalls, each more spectacular than the previous one. The grassy farm fields were dotted with sheep and ponies, and we saw our first Red-necked Phalaropes in one wet area.

At Arnarstapi we peered over the massive bird cliffs at thousands of Kittiwakes, Fulmars, and a few Great Black-backed Gulls and Shags. Here we also ate lunch, some soup and what turned out to be a twenty-four-dollar hamburger!


Fulmar


Kittiwake (Black-legged) with chick


Shag

Snaefellsjokul Glacier

As we rounded the west end of the Snaefells peninsula we got our first close-up looks of the great glacier that towered over the park. The following day we drove up to the foot of the glacier and crunched our way through the snow.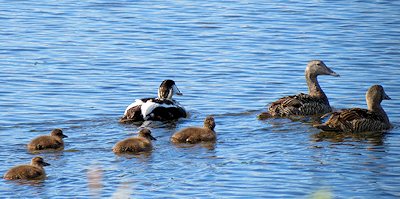 Common Eiders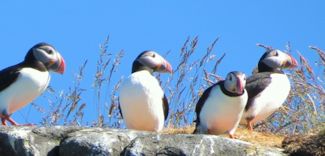 Puffins
We spent two nights at Olafsvik, a beautiful fishing town on the north side of the peninsula. Close by was the small village of Riff, which turned out to be an excellent spot for birds. Among the many shorebirds and gulls in the estuary and rocky shoreline we had Glaucous Gull, Golden Plover, Oystercatcher, Arctic Skua (Parasitic Jaeger), and White Wagtail.


Oystercatcher


Golden Plover
On Tuesday we took a calm, two-hour boat trip under sunny skies from Sykkisholmur to see Puffins, Shags, and a pair of White-tailed Sea Eagles! A nice culinary surprise occurred when the captain scooped up a claw-full of sea urchins and sea scallops, and then cut them open for us--the freshest sashimi we've ever tasted.


Urchins & Scallops


Puffins

The bird cliffs at the northwest tip of the peninsula were good for all three guillemot species: Black, Common, and Bruennich's (Short-billed Murre). We hiked around the Snaefell's Glacier and Suzanne found us an Arctic Fox on the way home!

On our final day in Iceland we visited some of the more tourist-oriented sights, while still getting a bit of birding in. We saw a pair of beautiful Trumpeter Swans north of Thingvellir (site of the first parliament).


Whooper Swans


Whooper Swans

Gullfoss Falls


Ringed Plover